Did you mean Beginning (Anime), episode 1 of the anime?
---
Beginning (はじまり, Hajimari?) is the first chapter in the Gakkou Gurashi! manga.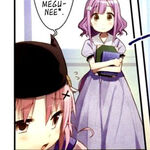 Yuki
is in love with her school! Even if she is sleeping during her classes. Walking in the halls, her teacher,
Megumi
, or rather, "Megu-nee," reminds Yuki about her
club activities
that she must attend to. Along the way to her club room, she explains why she is in love with her school, "I know it might sound weird, but I think school is a wonderful place. The physics lab is full of funny-looking machines. The music room has beautiful music instruments and scary portraits. For the broadcasting room, the entire school is it's stage. It has everything. It is just like our own country. You can't find a building as strange as school anywhere else. And my favorite is—"
[1]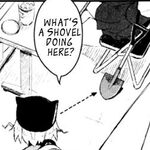 School Life Club
! Upon entering the room, Yuki meets up with one of her friends,
Kurumi
. Spotting a
shovel
next to her, Yuki wonders why it is there. Kurumi responded that it was the most lethal weapon in trench warfare. Later, one of their friends,
Yuuri
, preferably "Rii-san," entered the room and led the two up to the roof for garden work.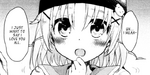 While working, Yuki and Kurumi began to splash some water at each other. Resulting in Yuki getting wet (and Kurumi winning), Rii-san tells her to change her clothes or she'll catch a cold. Yuki agrees and runs off. Kurumi began to wonder if she'll be alright by herself; Yuuri tells her not to worry since Megu-nee is with her. Quickly, Yuki returns to tell them that she loved them both and runs off, again.
Walking back to her classroom, Yuki repeats the fact that she is in love with the school lately. As she entered her classroom, she began talks to another student. A breeze went by so she closes a window. It is from here that you get a better view of the school from the outside. Unexpectedly, zombies wandering around.
Character Appearances
Edit
The following characters appeared in this chapter (in order of appearance):
References
Edit
Ad blocker interference detected!
Wikia is a free-to-use site that makes money from advertising. We have a modified experience for viewers using ad blockers

Wikia is not accessible if you've made further modifications. Remove the custom ad blocker rule(s) and the page will load as expected.