From Above (そらからの, Sora Kara No?) is the 26th chapter in the Gakkou Gurashi! manga.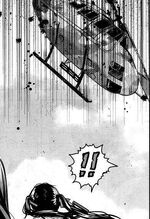 Everyone was shouting at the helicopter. Suddenly, they realize that it began to shake violently. A short moment later, the helicopter falls then crashes! Unsure of what to do,
Kurumi
and
Miki
ran off to investigate for possible survivors.
Kurumi and Miki were running past zombies; killing them along the way. The two then hid themselves behind a car. Miki takes peaks out at the helicopter. It appears that the fuel was spewing out.
In the meantime...
Yuki began to make some plans with Rii-san about preparing refreshments for their new guests. Shortly after their discussion was over, the helicopter exploded. From this, Rii-san began to break down and become emotionally unstable.
Miki had been knocked out from the explosion. As the zombies were wandering around, Kurumi had been trying to get her up.
Character Appearances
Edit
The following characters appeared in this chapter (in order of appearance):
Ad blocker interference detected!
Wikia is a free-to-use site that makes money from advertising. We have a modified experience for viewers using ad blockers

Wikia is not accessible if you've made further modifications. Remove the custom ad blocker rule(s) and the page will load as expected.