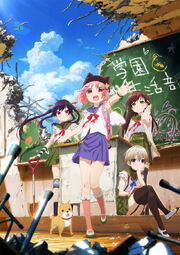 The anime adaption of Gakkou Gurashi! (がっこうぐらし!?) is produced by Lerche. It began airing on July 9, 2015 and finished on September 24, 2015.
An English dub of the anime adaption has been announced.
OP: Friend Shitai (ふ・れ・ん・ど・し・た・い, Furendo Shitai?, "I Want To Be Friends")
by Gakuen Seikatsu-bu (Inori Minase, Ari Ozawa, M.A.O, and Rie Takahashi)
ED: Harmonize Clover (ハーモナイズ・クローバー, Hāmonaizu Kurōbā?)
ED2: We took each other's hand
ED3: Afterglow (アフターグロー, Afutāgurō?)
Masaomi Ando (Director)
Norimitsu Kaihou (Original Creator, Series Composition)
Sadoru Chiba (Original Character Design)
Haruko Iizuka (Character Design)
Norimitsu Kaihō (Series Composition)
Haruko Iizuka (Character Design)
Atsushi Yokoyama (Kusanagi) (Art Director)
Episodes
Edit
Main article: Gakkou Gurashi! Episodes
Episode Covers
Edit
Ad blocker interference detected!
Wikia is a free-to-use site that makes money from advertising. We have a modified experience for viewers using ad blockers

Wikia is not accessible if you've made further modifications. Remove the custom ad blocker rule(s) and the page will load as expected.