For the translated diary, see User_blog:Cheironyx/Bonus_4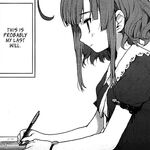 Megumi's Diary
(Megumi no Nikki)
is a bonus chapter in the
Gakkou Gurashi!
manga
which was released with the
fourth volume
.
Synopsis
Edit
In chapter 4 (and episode 3), Megumi kept a diary. This bonus chapter reveals that she—too—had feared what was to come. Inside the diary's contents, Megumi wrote about:
her perspective as to what happened after the outbreak started
descriptions of Yuuri Wakasa, Kurumi Ebisuzawa, and Yuki Takeya
her thoughts about herself
the definition of her job
descriptions of the school
a lead to Yuki's delusions
her last hopes and wishes
Ad blocker interference detected!
Wikia is a free-to-use site that makes money from advertising. We have a modified experience for viewers using ad blockers

Wikia is not accessible if you've made further modifications. Remove the custom ad blocker rule(s) and the page will load as expected.