Memory (おもいで, Omoide?) is the second chapter in the Gakkou Gurashi! manga.
Cover Summary
Edit
The School Life Club is camping at school. Surrounded by Kurumi who loves shovels, and Rii who draws people around her, Takeya Yuki enjoys a happy "daily life" to her eyes—?[1]
Out on the track, Kurumi was running. She considers that she does not dislike the sport of running, but the reason why she joined the track and field club was very impure. Out on the roof, a hand suddenly reaches out for Kurumi from behind.
Kurumi woke up and realizes that it was just a dream. She then wakes Yuki up and the two head off to the School Life Club room. Greeting Megu-nee and Rii-san. The members have breakfast; a moment later, Kurumi had finished eating and wanted seconds. Quickly, Yuki tells her that she'll put on some weight. Kurumi denies this since she is in the track and field club. After breakfast was over, Yuki and Megu-nee left for classes. On the other hand, Kurumi decides to go out on a morning patrol.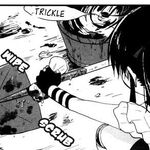 While out, Kurumi walks down stairs and inspects a barricade of desks. She climbs up to spot an idling
zombie
then questions herself if she can kill it. Without a thought, she had jumped over the zombie and strike it with her
shovel
. Now on the roof, Kurumi is wiping off her shovel. While so, Rii-san walks in and tells her that she mustn't do the dirty work by herself. The two looks out over the ledge to see zombies out on the track.
As Yuki returns from her classes, Rii-san tells her that they are going to have okonomiyaki for dinner. A small discussion leads to Yuki giving up on her studies. Rii-san reminds her that they should graduate together. Yuki—a little surprised—agrees and tells Kurumi that they must graduate together, though Kurumi didn't seem to really care.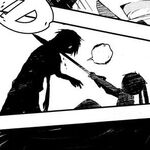 Someone was calling out Kurumi's name. As Kurumi came to realize what was happening, Rii-san began to shout to her. Kurumi didn't understand and began to ask what she meant. Soon enough, Kurumi's senior—zombified—pushes her to the ground. Approaching closer to her, Kurumi panics, picks up the shovel, and kills the zombie.
Kurumi wakes up, realizing that it was a nightmare. Looking at Yuki, who is sleeping peacefully while smiling, she says goodnight to her and then goes to sleep with a smile.
Character Appearances
Edit
The following characters appeared in this chapter (in order of appearance):
References
Edit
Ad blocker interference detected!
Wikia is a free-to-use site that makes money from advertising. We have a modified experience for viewers using ad blockers

Wikia is not accessible if you've made further modifications. Remove the custom ad blocker rule(s) and the page will load as expected.