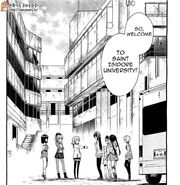 Saint Isidore University was the school that Touko Deguchi, Aki Hikarizato, Hikako Kirai, Rise Ryougawara, Renya Kougami, Sino Uhara, Ayaka Kamiji and Takahito Tougo attended.
Just like Megurigaoka High School, the school has its own solar powered electricity as well as a water filtration system that can provide hot water. In terms of size, the university also features many dorms to the point where each member of the Fallen Crew and School Living Club has their own room.
This school serves two (known) clubs: Melee Fight Crew and Fallen Crew.
According to Touko's drawing of the campus, the Saint Isidore University campus has two wings and features a library, chemistry room, and sports field. In addition to this, it now features a graveyard.
Known Attendees
Edit
Ad blocker interference detected!
Wikia is a free-to-use site that makes money from advertising. We have a modified experience for viewers using ad blockers

Wikia is not accessible if you've made further modifications. Remove the custom ad blocker rule(s) and the page will load as expected.